Since December 2019, all of our plants and the rest of our operations are 100% fossil fuel free. Sandviksverket in Växjö is our cogeneration plant, and we have local heating plants in Braås, Ingelstad and Rottne.
We have a total of four plants in four locations in Kronoberg County providing you and your family with heat. These plants are located in Växjö, Braås, Ingelstad and Rottne, and when producing heat for you and your family, we use 100% renewable biofuel from the forest, including bark, woodchips and forest residues such as branches and treetops. This way, our district heating helps to reduce carbon dioxide emissions. It also happens to be one of the most reliable and maintenance-free ways to heat your home.
Here you can see the entire cogeneration process – from forest to heating, cooling and electricity. The steam boiler is used to heat water into steam to drive the steam turbine, which drives the generator to produce electricity. Any excess heat from the steam turbine is used to heat the district heating water. We also recover energy from the flue gases to produce heat. The flow also shows the district cooling system, for which we use absorption cooling units powered by the heat we produce. The image shows how municipal water is piped to homes and public buildings. The hot water that is used is heated by the district heating water, which circulates in a closed system.
Click the image to open a larger version.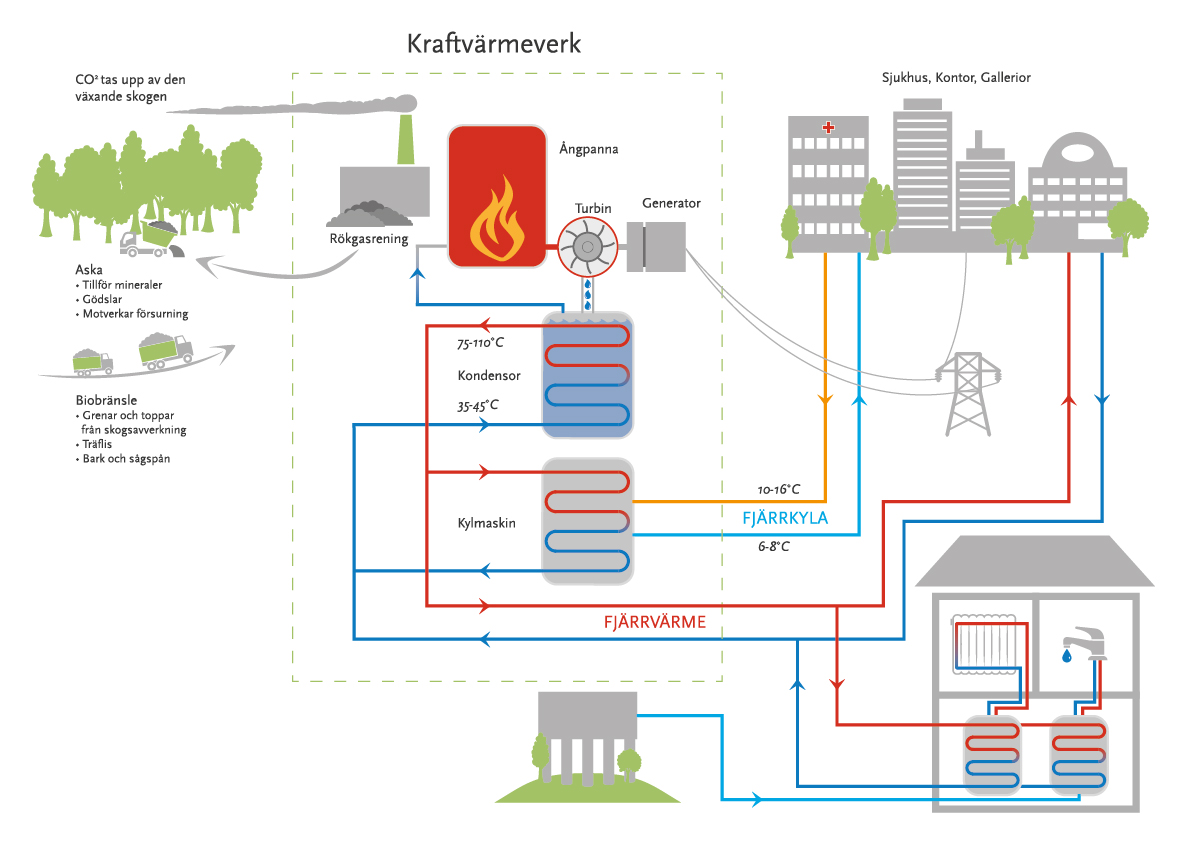 Primary facilities
Cogeneration, Sandvik 3
65 MW heating and 39 MW electricity
Has fossil fuel free production and is powered with biofuel. Space for flue gas condensation.
Cogeneration, Sandvik 2
65 MW heating and 35 MW electricity + 25 MW heating from flue gas condensation. Has fossil fuel free production and is powered with biofuel.
Hot water boiler at Sandvik 1
Hot water boiler, 25 MW heat. Has fossil fuel free production and is powered with biofuel. (Sandvik 1 was built in 1974 as an oil-fired cogeneration plant, converted to biofuel in 1980 and decommissioned in 2014. A bio-based heating plant is still operational during peak loads.)
Backup facilities
In addition to our primary facilities, we also have backup facilities that can be used in extreme situations. To ensure that we can always supply heat, we have a number of backup boilers in various locations throughout the district heating network. These are not normally operational and are only used if there is a problem at Sandviksverket or with the intermediate district heating pipes.
Hot water boiler at Sandvik 1
45 MW heat (bio-oil fired)
Hot water boiler at Täljstenen
40 MW heat (bio-oil fired)
Hot water boiler at Teleborg
45 MW heat (bio-oil fired)
Since December 2019, 100% of our production is fossil fuel free.
The white smoke you see billowing from the chimney stacks is comprised mostly of water vapor that condenses into water droplets. The chimney stack emissions also include nitrogen, oxygen and, of course, carbon dioxide. Smaller amounts of nitrogen oxides, sulphur dioxide, carbon monoxide, nitrous oxide and other substances are also found in these emissions. The amounts are well within the limits of the applicable environmental permit. Since the boiler is only fired with biofuels, the emitted carbon dioxide is not from fossil sources. Accordingly, it does not contribute to the global climate problem.