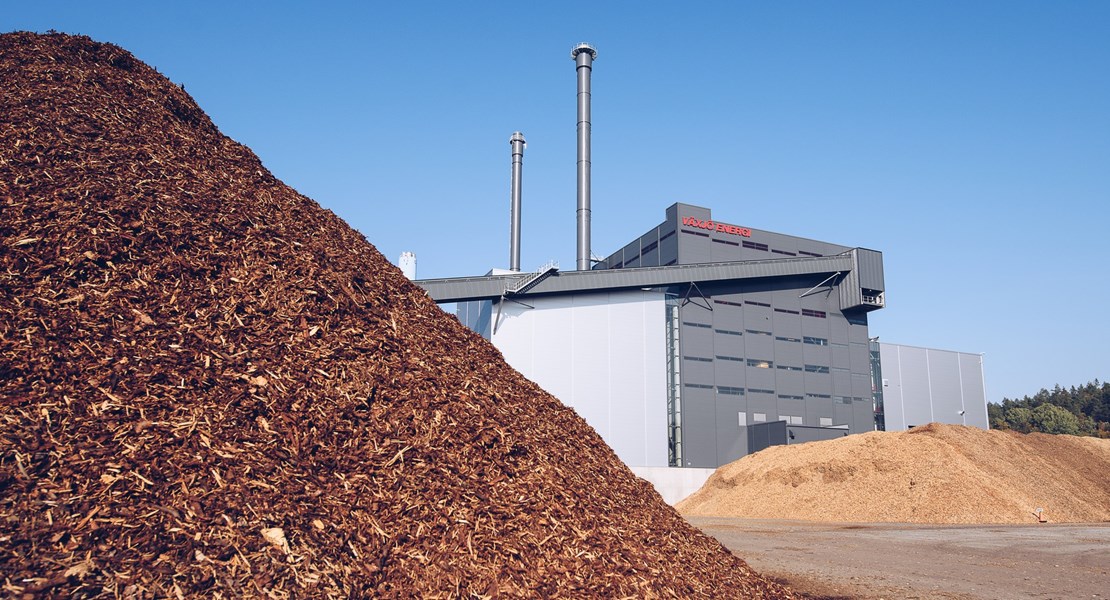 Since 1993, fossil carbon dioxide emissions in Växjö have fallen by 70 percent per capita. Now it's time to take the next step on the journey towards sustainability. Together we're going to ensure the right conditions for carbon dioxide removal.
According to many researchers, carbon capture is a necessary part of efforts to achieve established climate goals and halt climate change. Here at Växjö Energi, and as one of the first fossil free energy companies in the world, we want to invest in carbon capture to achieve carbon dioxide removal. The technology, referred to as BECCS (Bio Energy Carbon Capture and Storage), enables us to capture and store the carbon dioxide released when we produce electricity and heat.
On a cold winter's day in Växjö, this would mean that we can reduce the air of about 1,000 tonnes of carbon dioxide, thereby lowering the level of atmospheric greenhouse gases. This is a commitment for the future Växjö Energi is willing to strive hard for.
This is a joint effort. We need to do this together if we're going to lessen our impact on the climate. And if we're not at the frontline, who will be?
The road to negative emissions
Here are a couple of important project milestones.
March 2023 – carbon dioxide is stored in project greensand

Växjö Energi has been part of the Danish project Greensand's international sounding board. The project invests in storing captured carbon dioxide in the North Sea.
The first carbon dioxide, which was emitted from a chemical plant in Belgium, has now been stored. In the future, it is intended that more Nordic countries will be able to store carbon dioxide at the same location. Crown Prince Frederik of Denmark officially inaugurated the project, while Ursula von der Leyen, President of the European Commission, gave a speech via video link.
You can find more details regarding the Greensand initiative here

August 2022 - Växjö Energi runs a new collaborative project for carbon dioxide infrastructure

A new cluster network has been created in Southern Sweden, Carbon Network South Sweden (CNetSS), which consists of 10 different actors from different parts of the infrastructure chain; carbon dioxide emitters, logistics companies and port operators. The project is led by Växjö Energi and will contribute to creating sustainable and cost-effective solutions for a regional carbon dioxide infrastructure in southern Sweden.
The Swedish Energy Agency contributes state support and the project runs in its entirety until December 2023.

31 may 2022 – the first carbon dioxide is captured in the pilot plant

Beginning of may 2022 – the pilot plant is on site at the sandvik plant

December 2021 - Energy-efficient plant for capturing carbon dioxide begins to be built

World-leading researchers at Lund University are developing a unique method for capture and storage of carbon dioxide that uses far less energy than earlier approaches. The technology will first be installed and tested at Växjö Energi, then at two other CHR facilities in Sweden. The Swedish Energy Agency is funding the project and the project will run until 2024. More information about the project

April 2021 – Grant from the Swedish Energy Agency

In April 2021, our grant application under the Industrial Evolution initiative will be approved by the Swedish Energy Agency. The grant will cover fifty percent of the project's start-up costs over the next two years.

February 2021 – Application to the Swedish Energy Agency

In February 2021, we submitted to the Swedish Energy Agency a grant application for our preparatory project POSCLIMB-prepare. The application concerns the long-term Industrial Evolution initiative, which aims to support the transition to negative greenhouse gas emissions.